By Holly Hanover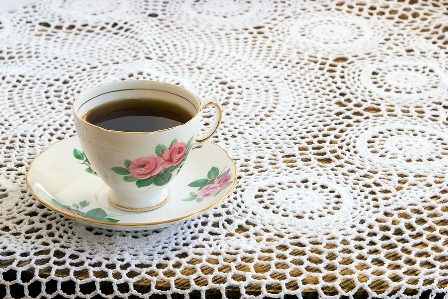 If you are already a keen needleworker, there's a good chance that you are constantly on the lookout for new threadwork skills to add to your repertoire.  Although you may have tried lace-making in the past, or even shuttle tatting, one technique that you may not have come across – and which, once mastered, is one of the most portable thread crafts to carry around with you  – is needle tatting.
What is Tatting?  Even from an experienced craft hobbyist, it's not unusual to get the response "what is tatting?" when the skill is mentioned.  Highly rewarding to learn, if intricate detail is your thing, this is for you.  Originating in the early twentieth century, but not really gaining in popularity until relatively recently, needle tatting is a form of lace making using specialist thread and needles, readily available online.  In basic terms, if you can knit and crochet, you have a head start on learning this complex and beautiful art.  You need:
A tatting needle – these are available in various sizes.  They resemble a large tapestry needle, with an eye to take the thread, and a blunt end
Crochet thread, or similar
As with other thread-based activities, the size of the needle and the thickness of the thread will affect the finished result.  Your stitches – double and single – will make up the chain and ring effects that are the basis of all needle tatting.
The basics:
The knots and ties are created by using the needle in one hand, and your fingers on the other hand. These knots wrap around the needle until you push them off, and tie them into ring or loop arrangements.
Next steps:
Many needle tatting sites have video tutorials that you can follow, as well as graded patterns, and inspiration for freestyle designs when you become more proficient.  Offline, you may wish to find a teacher that can set you on the right path – although needle tatting is growing in popularity all the time, these can be few and far between.  However, don't be discouraged; like all crafts, there's nothing like trial and error, and learning as you go, to give you real confidence and fluency in your work.
Share your Tatting stories and projects in comments.