On The Second Day Of Havel's Holiday Project,
My True Love Is The 5 1/4″ Ultimate Embroidery Scissors
Decorative Stitching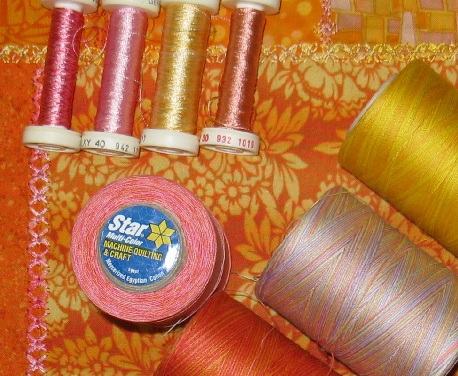 1. Choose yellow, orange and pink threads in cotton and rayon for decorative stitches.
2. Use the decorative stitches on your sewing machine to join the patches and to stitch them to the interfacing. The interfacing is a good stabilizer for machine embroidery. The brand doesn't matter, the weight matters.
3. Lower the top tension on your machine so that the decorative stitches are fuller and are raised up on the surface of the fabric. I like to use two threads through the eye of the needle (a rayon and a cotton) to add thickness to the stitch and to create a more interesting colorful stitch. Use a 90/14 machine embroidery needle. Thread your machine as if you are using a twin needle, but thread both threads through the eye of the needle. Your sewing machine manual will tell you how to thread your machine for a twin needle.
TIP: I like to make samples of my stitches before I work on my project, this way I can test the threads and stitches and adjust the tension on my machine.
4. Use Havel's bent embroidery scissors to cut the small threads. The bent form is easy to use and avoids cutting your fabric.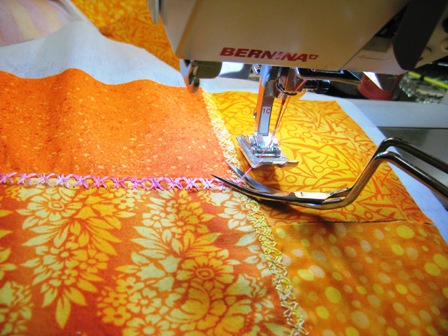 5. Stitch over the raw edges of adjoining fabrics. Cover every edge with stitching.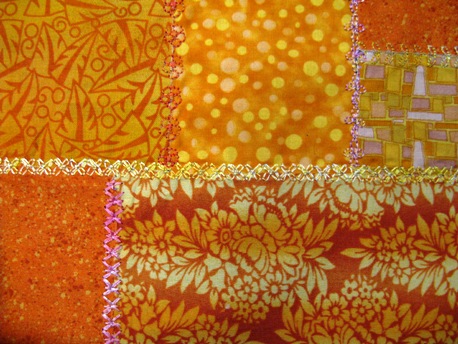 6. Press when finished.
Next: On The Third Day Of Havel's Holiday Project,
My True Love Is The. . .
For a printable PDF, please click here.