By Kathy Mathews
I make quilts in the comfort of my sewing studio, and I often feel I don't need to leave that wonderful sanctuary. My quilts fill my senses and satisfy my creative spirit. I tweet and chat with fellow quilters and have my supplies and fabrics all at hand.
I am a very satisfied and productive quilter, especially when the weather is blustery, cold or wet. But venturing outside of my cloistered creative corner is also a wonderful thing. If possible, I think all quilters should take to the road.
I love to travel short distances to see quilt shows. These types of quilts are doable, earnest and filled with love. I like seeing what fabrics other quilters are using and what designs they are making. Plus there are merchant malls. Even if I normally patronize these merchants, sometimes their wares displayed in a new way makes me discover something wonderful. I come home bursting with enthusiasm to quilt.
I also love road trips to major quilt shows. These kinds of shows can be overwhelming at first. Sometimes I have to just sit and breathe while I take it all in. There are all kinds of quilts, some types that I don't even love. It's so good to be challenged and see what the most dramatic trends are. New and different can be exciting.
These super big shows also have merchant malls, and many of them are brands or manufacturers who don't even have a separate store. The gadgets are the most fun — you can hold them in your hand, play with them and see how great they are. And then, naturally, you buy them. (Duh!)
I come home from these shows and scurry up to my sewing loft bursting with ideas. I organize my new fabrics and fun purchases and release my ideas from my head to paper. What a way to recharge your batteries! Oh and did I mention you also spend money?
Another fabulous quilty way to travel is to visit quilt museums. I have had my breath taken away in Kentucky and Wisconsin. I am just about to start a trip which will include a visit a museum in Vermont known for its quilt collection. I can hardly wait to see what I learn.
Sometimes there are places like these that are better than others, but I love seeing a quilt collection or museum whenever I can. It's important to learn what's cutting edge at the shows and what came before at the museums.
I have also undertaken many a quilt travel to see quilts incorporated into unusual architecture or nature. I could not love the quilt gardens in Indiana more, plus they gave me a fresh way of thinking about quilts. I've also traveled the barn quilt trails in Iowa, Wisconsin and Illinois. Those are worth the trip just for the photographs alone, not to mention the inspiration.
I have even managed to visit a rest area with a quilt theme in Iowa and towns which seem to be centered around quilting in Pennsylvania. I've spotted quilts in Presidential historical houses. There are so many fantastic ways to see quilts when you are on the road.
I love all of these quilt trips, but hitting quilt stores on the road is one of my absolute quilty favorites. Whenever we take a road trip we somehow manage to find quilt stores. Once, I woke up from a nap and there was one right next to us. (It's my superpower, what can I say?)
We have also hit quilt stores I have found using an app on my phone, listings in Yelp or in phone books. I have gotten off the highway to shop at a store which had a billboard. There are so many fun ways to find new shops.
I buy new fabrics they don't sell near me. I buy fabrics which feature Alaska or western wildlife. I see new trinkets and new ways to use it all. I can touch it, feel it and bring it on home with me. It's my essential souvenir from every trip.
Sometime in the future I will be ensconced in my sewing room and pull out that fabric. I will remember that wonderful trip and make something as a permanent reminder. It's a great way to travel and remember the memories you made on the road.
I also remember these long distance shop hops when my Visa bill arrives. Worth every penny!
Happy quilt travels to you!
---
Save on the best! Shop Havel's Sewing today!

---
About Kathy Mathews: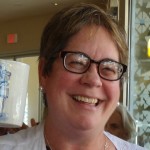 Kathy Mathews has been sewing for 49 years and quilting for 31, which is odd as she's so young. She taught Spanish and French full time for 35 years in Illinois Public schools and then continued at the college level until 2014. During all that time, quilting and sewing allowed her a creative outlet and kept her sane. In addition to needle arts she is an avid reader, swimmer, traveler and yoga newbie.  She blogs mainly about quilting at www.ChicagoNow.com. She lives in the Chicago area with her husband, is the mother of two grown daughters and grandmother to the cutest two year old girl in all the land. You can email her at quiltingsewingcreating@gmail.com.