By Kathy Mathews
Are quilters the best? You be the judge!
I am a people person. I like being around them, talking to them and eating with them. I think it's more fun to see a movie with another person so you can exchange a thumbs up or down. I like going to plays with others so we can discuss the meanings and performances. I like eating with other people so I can try their meal have a conversational partner. Think of all the people we spend time with throughout the days and weeks — our family, our coworkers, strangers in public places. And then there's those we choose to hang around. That last group, those are the quilters and they are my people.
Quilters understand my fabric obsession; in fact, they have one of their own. You can go fabric shopping with them and no one says, "Do you need that?" They know the intense passion that drives us all to buy that fabric because you just never know.
Quilters comprehend on a molecular level my love affair with gadgets. They don't question why you would have drawers full of them and duplicates. They know that many times you just have to have the exact right tool.
My fellow quilters are wonderful dining companions. Some like appetizers, others love their wine. And all will split a dessert with you, or even order one of their own! There may be some quilters who are in the, "I'll only have a half a salad and water club," but I haven't met them.
Quilters don't bat an eye about driving long distances to see quilts. The more quilts, the more miles they are willing to go. And if the quilts are particularly exquisite, road trip! If there are famous quilters or quilters you have only met online, the distances almost don't even matter.
Social media quilters are really my people. I exchange messages, emails, tweets and Instagram pictures with fellow quilters. I talk to them on my blog, my Facebook page and anywhere else quilters go to communicate and talk quilt. Advice on a quilt, virtual hugs and fabric tips are just a click away.
Quilters are also funny. They get the corny jokes I make and share theirs with me. We're dealing with fabric and thread here, it's not brain surgery. If you can't have fun while sewing, when can you? We quilters can laugh at ourselves, our quirks and the wonder that is the quilting world.
In life we need a community, a place where you feel understood and accepted. I have my family and I had my profession, but now I have that vast community of fabric loving, thready folks who quilt. We organically understand what makes the others tick! (Or should I say stitch?)
I have probably expanded my quilting network to 3,000 – 4,000 people and they are the kindest people on this earth. I have never had any troll comments from quilters. I have contributed blocks to quilts that other quilters are making for a quilter in need. One whom they have never met — that is the kind of people you find in quilting.
Not only are quilters kind, but they are generous as well. I just got two rows of size M bobbins a fellow quilter sent me in the mail. She didn't need them, so she asked if I did. I have also received handmade pin cushions and special outfits for the babies in my family that never got to go home. Quilters have very large hearts.
And that's just what quilters have sent me. After every disaster, in hospitals across the country and for veterans of every war, there are quilters donating love in the form of quilts they have made. How could anyone not love quilters?
I love quilters! I love their kindness and generosity. I adore their acceptance of me and super fun sense of humor. They share my obsessions and form a constant chatter of quilt love on the Internet. These quilters are the best people around.
Hold on, I forgot to mention quilter's love of chocolate and their desire to share it. Sigh of contentment.
That decides it — quilters are not only my people, they are perfect!
Find the best deals on the best tools! Shop
Havel's Sewing today!

---
About Kathy Mathews: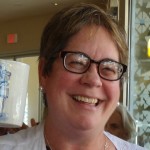 Kathy Mathews has been sewing for 49 years and quilting for 31, which is odd as she's so young. She taught Spanish and French full-time for 35 years in Illinois Public schools and then continued at the college level until 2014. During that time, quilting and sewing allowed her a creative outlet and kept her sane. In addition to needle arts she is an avid reader, swimmer, traveler and yoga newbie.  She blogs mainly about quilting at www.ChicagoNow.com. She lives in the Chicago area with her husband, is the mother of two grown daughters and grandmother to the cutest two year old girl in all the land. You can email her at quiltingsewingcreating@gmail.com.