by Luv2Sew,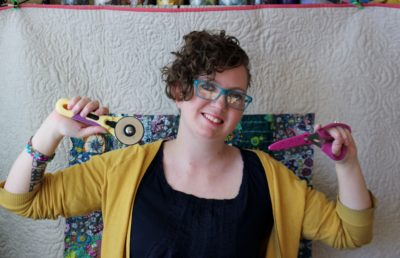 Havel's Sewing is excited to introduce one of our newest sewing ambassadors Emily Lang! A mutual friend suggested we connect and that was, as they say, all she wrote. We instantly fell in love with her fresh, colorful quilts and invited her to be a part of the Havel's Sewing team!
Emily Lang is a mom who loves to sew and read. She's been sewing for 20 years, and fell in love with quilting after her daughter was born. She loves to design quilts, and enjoys the challenge of working with intricate piecing on both small and large scale. Follow her quilting adventures at www.MommysNapTime.blogspot.com and on Instagram Mommy's Nap Time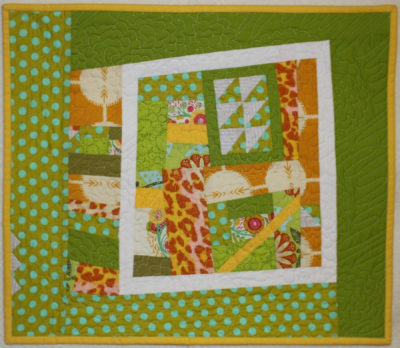 My favorite quilt I've made was inspired by the early spring / late winter in Chicago, this quilt brings together precision and free piecing. For anyone who has experienced a Chicago spring, they'll know that just as you get comfortable with the newly warm temperatures, a snow storm will hit! The unexpected weather changes in spring can be frustrating, but they bring about a level of preparedness – anything goes. The same is true with this piece. I began piecing half square triangles – tiny bits from a pile of scraps. Nothing was measured and nothing was marked. The memorization of movement provided me with near perfect half square triangle blocks. Just as I was feeling comfortable with the comforting bright greens, I at once felt finished. After taking a long break from the piece, the narrow white border was added, and more spring. Sometimes parts of our lives require that definition. We need borders to draw attention to the important moments. This is given to us naturally, in spring in Chicago. – EL
We had fun asking Emily a few questions to help us to get to know her work and home life a little better!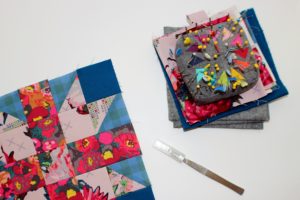 1. Do you consider yourself a cat or dog person?
I'm a dog person, but I have no pets currently.
2. How long have you been sewing/quilting?
I've been sewing for 20 years, and quilting for 8 years. I found quilting when I was home on maternity leave with my daughter. It was as if all those years of sewing random projects were prepping me to find my home in quilting. I dove in and haven't looked back since!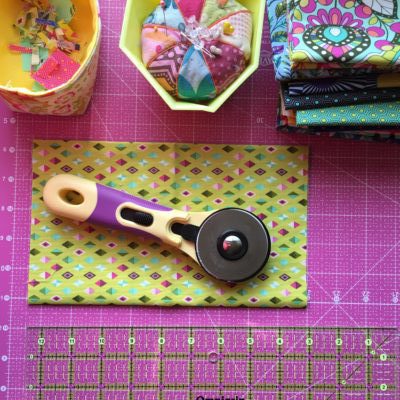 3. What is your favorite color?  
 Am I supposed to have a favorite? Choosing a favorite color is a bit like choosing a favorite child. Kona Curry is my favorite solid fabric, otherwise I love bold, bright colors. Teal, rich blue, and lime green are good contenders (my daughter claims my favorite is green, I'm not sure why).
4. If you could have dinner with anyone (dead or alive) who would it be? 
I feel like the only way to really answer this is to avoid the cliche'd answers. So I'll choose my grandma who passed away when I was 12. She lived next door to us most of my life up to that point, and there is so much I'd love to share with her.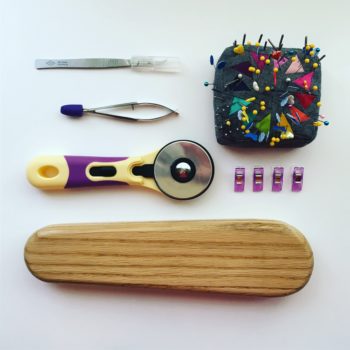 5. What inspires your creativity? 
My creativity is inspired by the world around me. I find a lot of inspiration in regular repeating patterns found in architecture (fences and brick / tile work especially), and irregular patterns (books on a shelf, colors on a magazine, random spacing within a mosaic). I work in a used bookstore, and that alone provides so much visual stimulus. I've designed quilts while doing monotonous tasks at work – quilts are always in the back of my mind, and I'm working out how I'm going to piece something while doing the monotonous daily tasks in life.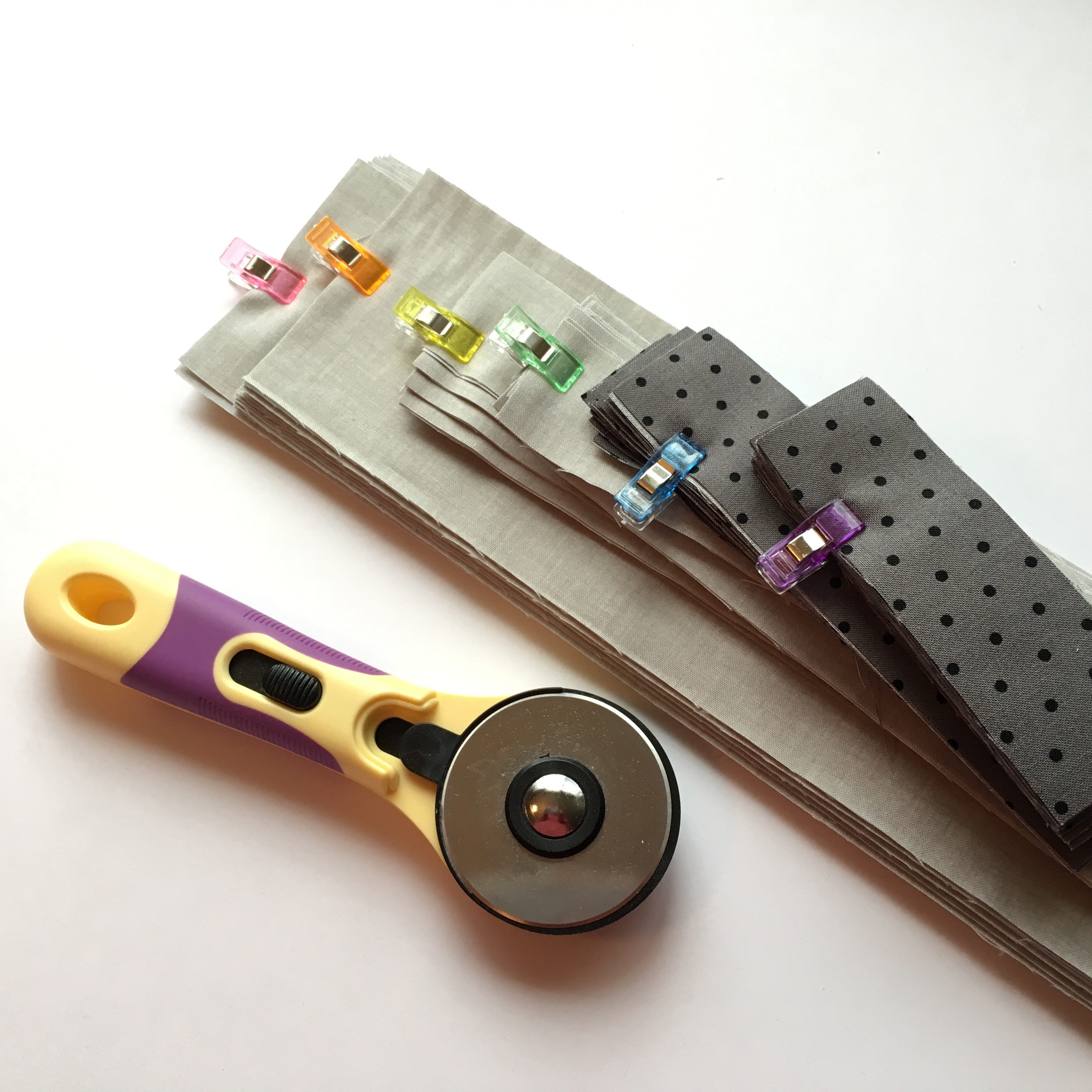 6. What is your guilty pleasure (tv, music and/or food)?
 Chocolate Cake Shakes from Portillo's are always a big splurge. Otherwise I love a good sliced apple with hot caramel, and I love to watch netflix in the evenings. Shameless is our current fav, and Switched at Birth is a real guilty pleasure — teen dramas are so cringe-worthy!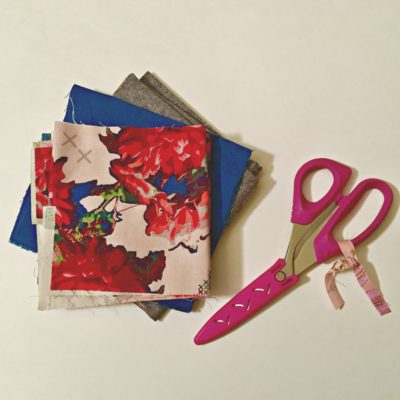 7. What do you do to make sure no one uses your sewing tools? 
First of all, I'm the only left hander in the house, which means my tools don't work very well for them! Second, I have expressed to everyone that my tools are way too sharp, and are not appropriate for anything but fabric (when my daughter was too young to understand this, I would keep ALL sharp tools above my fabric cabinet and out of reach). Finally, I tie a little bit of a pretty fabric around the handle of my fabric scissors.
What a great way to let everyone know that your scissors are for fabric only. Smart thinking Emily! Thank you for sharing your thoughts, ideas, and photos with us. We are thrilled to have you on the team. Mommy's Nap Time (mommysnaptime.blogspot.com) is a wonderful showcase of the wide array of styles and colors you use to create your quilts. We think everyone will find your creations not only beautiful but inspirational!