By Luv2Sew
Colorful, fresh, and fun are just a few of the adjectives we'd use to describe Jessica Schunke and her quilting creations. In looking for original inspiration for our customers we went in search of today's best and brightest in our industry and are so excited we found Jessica! We enjoyed having a little one on one with her as well as giving her the reigns to  our Instagram and Facebook accounts for a week. Welcome Jessica!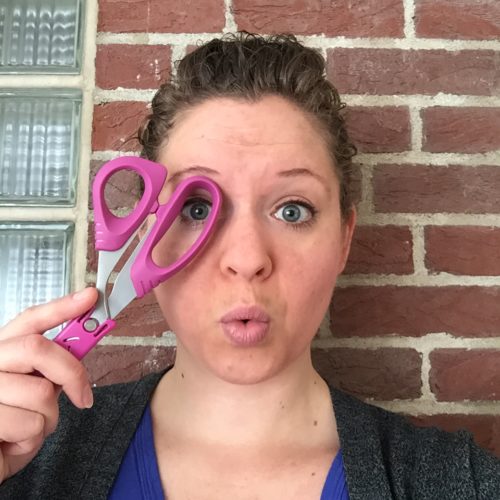 "Howdy! I'm Jessica, aka blueskycrafter, and I'm so excited to be taking over the Havels Sewing IG feed this week as one of their newest sewing ambassadors. I took up sewing as a hobby seven years ago when we moved from Texas to St. Louis and didn't know anyone, but it quickly morphed into a passion for me. Now, I spend as much time as I can behind my machine or on the couch working on my newest love, needle-turn applique. I am in the midst of my second year as the secretary of the St Louis Modern Quilt Guild and work part time at a local fabric store (in addition to my "normal" job as a freelance editor). I just got back from QuiltCon and can't wait to get to work on some new ideas and projects inspired by all the loveliness I saw there. Can't wait to show you more this week, so stay tuned!" – JS
1. Do you consider yourself a cat or dog person?
I'm definitely a dog person (it doesn't help that I'm horribly allergic to cats).
2. How long have you been sewing/quilting?
I've been sewing for seven years, quilting for six. I decided to take it up as a hobby when      we moved to St. Louis (a city where we knew no one) and soon fell in love.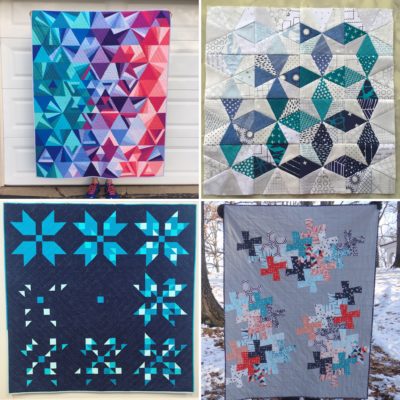 "Like a parent with their children, it's impossible to choose a single favorite of all my projects, but these definitely rank near the top: my Tessellation quilt, the Kaleidoscope block I made as the starter block for a traveling quilt (still traveling!), my Fading Star quilt, and my Waterfront Park Pinwheel quilt (an oldie but a goodie). Can you guess what my favorite color might be? ;)" – JS
3. What is your favorite color?
Anyone who follows my sewing projects on Instagram can quickly guess it's teal. It shows up a lot in my work.
4. What inspires your creativity?
I find inspiration in so many outlets. Seeing the beautiful work of others on blogs and Instagram is always hugely influential, but I also like to take ideas from nature (especially color palettes), buildings, song lyrics (I have big plans to use some in an upcoming project), and art.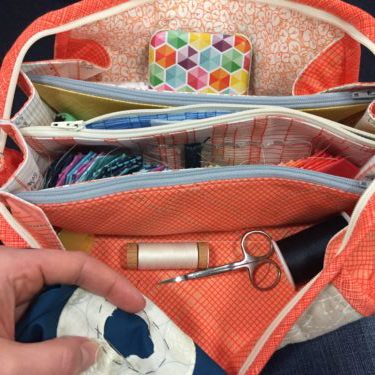 "My Havel's Sewing embroidery scissors are a staple in my sewtogetherbag. Perfect for hand sewing on the go." – JS
5. If you could have dinner with anyone (dead or alive) who would it be?
Jane Austen. Pride and Prejudice has long been my favorite book, and I imagine her cleverness and sparkling wit would make for a most enjoyable dinner conversation.
6. What is your guilty pleasure (tv, music and/or food)?  My TV guilty pleasure is definitely HGTV. It's usually what's on while I'm sewing. For food, my family jokes about my love for sweetened bread products, which pretty much sums it up. As for music, let's just say that if you signed into my Pandora account, you'd find Journey, Christopher Cross, and Ronnie Milsap stations.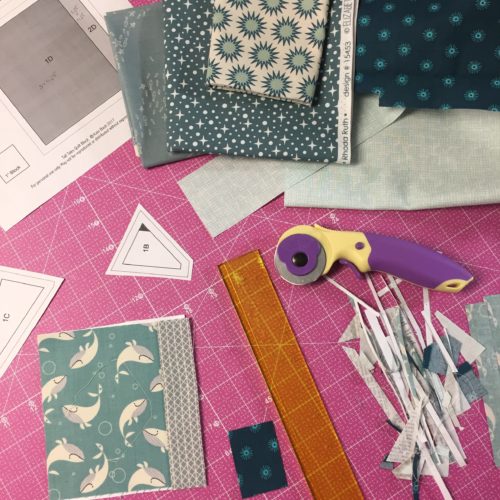 "My current project is all about paper piecing, so my Havel's Sewing cutting mat and rotary cutter are getting a good workout…" – JS
7. What do do to make sure no one uses your sewing tools?Threats? Ha! At home, my tools stay far away from anywhere my boys would get into, and there are always plenty of non-sewing scissors around so they're not tempted. On retreats, I like to wrap washi tape around the handles of my scissors and other items to mark them as mine.
Thanks again to Jessica for taking time out of her very busy schedule to share her work as well as her thoughts. We are looking forward to seeing the beautiful quilts you create this year!