Fabric Christmas Cards: A Holiday How-To!
A Free Craft Project By Liz Kettle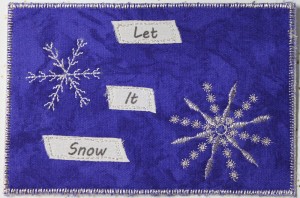 I love sending fabric postcards to friends and family but I have gotten out of the habit in the last year as I spend more time communicating virtually. A friend posted a challenge on her blog to send out some actual physical mail and I thought I would take up that challenge and challenge all of you to consider it as well. We all love getting real mail!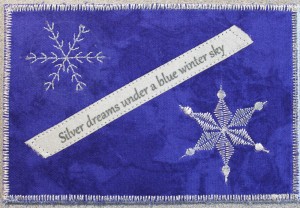 Snow season is just getting started in earnest here in Colorado so I thought some snowflake postcards would be perfect. These snowflakes are created by combining and manipulating the decorative stitches on your machine. Even if you don't have a lot of fancy stitches I know you will find a couple that can be combined to make a pretty snowflake.
Look at your programmed decorative stitches for patterns that are geometric in form; triangles, diamonds, circles, points. Consider creating a program stitch dictionary as in the photo above that shows what all those stitches you have actually look like…you will be so glad you did this! How do these stitches change when you alter the length or width? What pattern do they create when stitched back to back in mirror image? It can take a bit of play and experimentation to find ones that work well together so be sure to make some notes about the ones you like and the adjustments you make for future reference.
These snowflakes look great on winter and holiday themed quilts as well as make great postcards. Have fun playing with your different stitches!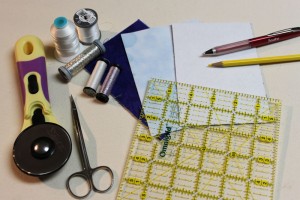 Supplies:
Rotary cutter, ruler and mat
Embroidery scissor with double curve
Light and dark blue fabric
Firm stabilizer (I used Pellon Peltex #72-fusible on both sides)
Threads: White rayon, silver or white metallic or hologram and a lightweight polyester bobbin thread.
Embroidery or metallic machine needle 90/14
Chalk or marking pencil in white
Ruler with a 60degree line
Ribbon for text
In nature snowflakes are created around six fold symmetry. A ruler with a 60degree line makes creating a snowflake guide easy. The 2" length described here is the length I used for the Vintage German Snowflake. To create smaller or larger flakes simply draw a shorter or longer line. Sorry about the dye on my hands in the photos…just having too much fun around here!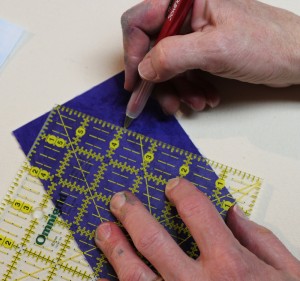 1. Use a ruler to draw a line 2 inches long. Place a small dot in the center.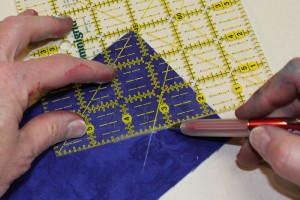 2. Place the 60degree line on your ruler on the drawn line with the edge of the ruler at the center dot. Draw a line approximately 2" long
3. Move the 60degree line on the ruler to the new line. Place it at the intersection of the two previous lines. Draw a line approximately 2" long.
Making the snowflake postcard:
1. Use the rotary cutter, mat and ruler to cut your fabrics and stabilizer 4"x6". The 60mm rotary cutter makes cutting through heavy stabilizers a dream!
2. Fuse the dark blue fabric to one side of the stabilizer. If you don't have Peltex 72, use a fusible web such as Misty Fuse to adhere the fabric to the stabilizer.
3. Pick one of the snowflake designs I have given you below or experiment with your stitches to come up with new patterns. Determine the best method of stitching your chosen design. Does it look better stitched from the outside to the center, from the center out, or can it be stitched across the length of the snowflake.
4. Use a marking pencil to mark the 60degree lines on the dark blue fabric as shown above.
5. Stitch the snowflakes on the dark blue fabric and stabilizer using the directions below.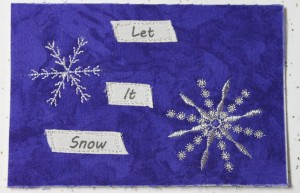 6. For the text, I printed on ribbon using my inkjet printer. This technique is in both of my books and I have a tutorial on my web site in the group forum section. Alternative methods would be to use rubber stamps or a fabric marker to write by hand. Use fusible web to secure the ribbon and stitch around the edge as desired.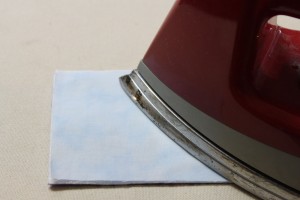 7. Fuse the light blue fabric to the back of the postcard.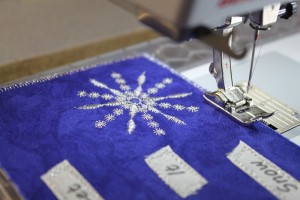 8. Stitch around the perimeter of the postcard. I used a zigzag stitch in silver metallic thread. I like to stitch around the perimeter twice for a full but not quite satin stitch. Straight and decorative stitches are great options as well.
9. Use a Sharpie or fabric marker to write your message and address your card. I apply a 1st class stamp rather than a postcard stamp and send it on its way.
VINTAGE GERMAN SNOWFLAKE
I used a silver metallic thread to give a vintage mercury glass feel to this snowflake. The stitches for this snowflake are two that are on my 22 year old machine that only has a total of 12 stitches. Havel's 5" double curved scissors are the perfect tool for clipping threads during machine embroidery. They get super close to the fabric to give you a clean cut but the curve prevents that horrid moment when you realize you just cut your fabric. The double curve is great when you are using an embroidery hoop and the finger holes are the perfect size. You are going to love these scissors!!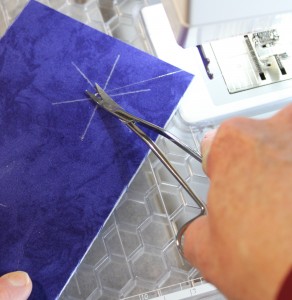 1. An eyelet stitch was stitched to provide an open center. If you don't have an eyelet stitch, simply draw a small circle and begin your stitching at the edge of the circle.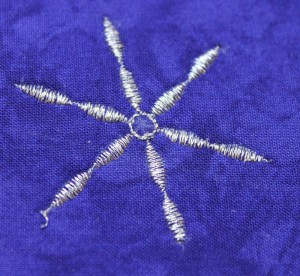 2. Next an oval satin stitch at a slightly reduced width was stitched from the edge of the eyelet stitch out for two repeats.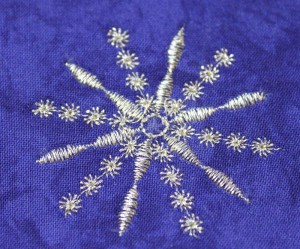 3. A flower chain stitch was inserted between each of the previous stitch lines to create this vintage look snowflake.
FEATHER SNOWFLAKE
This delicate snowflake uses a programmed feather stitch that looks best stitched from the outside into the center. I drew my lines 1 1/5" long.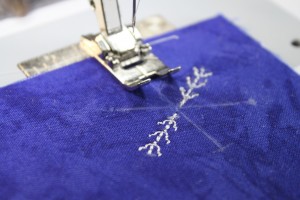 Begin the stitch at the outer edge of the circle then stitch towards the center. Stitch on all 6 radiating lines.
POINSETTIA SNOWFLAKE
To create this snowflake the stitch is made by slightly lengthening the stitch length on a satin stitch triangle stitch. My length setting was .80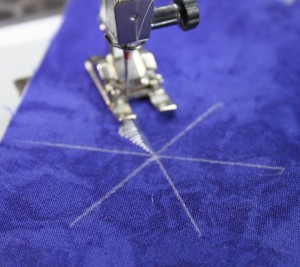 1. Stitch the design in one direction for one repeat, pivot 180degrees and stitch back to the center.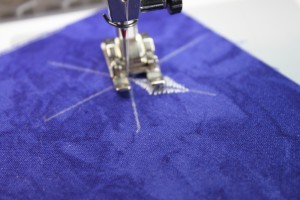 2. Pivot again and repeat along each snowflake guide line.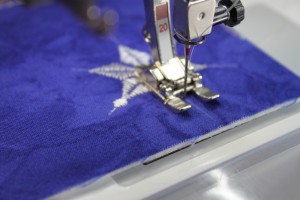 3. Finally, one repeat of a circle satin stitch and a couple straight stitches are added to the tip of each point.
I have a dear friend who is leaving her frigid climate for the warm breezes of Florida next week…I will be sending her one of these so she doesn't forget the pleasure of snow! She will be jealous of all our snow don't you think?
Liz Kettle is a mixed media and textile artist living in snowy Colorado. She is co-author of 2 books, Fabric Embellishing: The Basics and Beyond and Threads: The Basics and Beyond. Liz loves teaching and sharing the joy of making stuff in her articles, classes and at her fabulous retreat, Textile Evolution. Visit her blog and website, www.TextileEvolution.com