Double-fused Appliqué and Machine Stitching
By Terry White
The Oranges
Here is a fused appliqué technique that works when fusing over seams.
The oranges are going to be placed across the patchwork seams. If you just fuse the orange shape to the quilt, then you will see and feel the patchwork seams come through the orange. To prevent this, you can fuse the orange shape to a white fabric and then, stitch to the quilt top.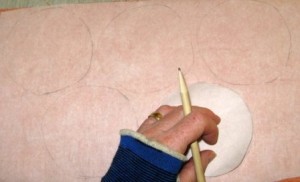 Trace the orange shape onto the paper back of the fusible web. I like the oranges to be not perfectly round. By tracing the shape, I can make each orange a little different.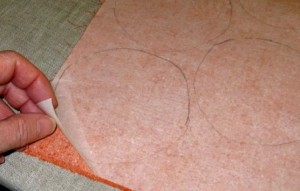 Fuse the wrong side of the orange fabric to the fusible web. At this point, peel back a little of the paper backing before cutting out the orange. It will make it easier to pull the paper when the whole orange has been cut out.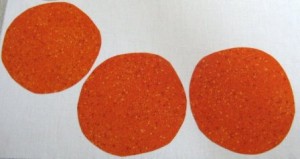 Cut out the oranges and fuse them to white cotton fabric.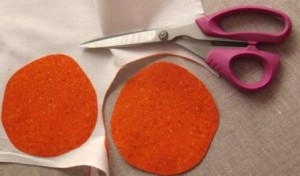 Cut the oranges out of the white fabric. The orange shapes will have more body and the color of the patchwork and seams won't show through.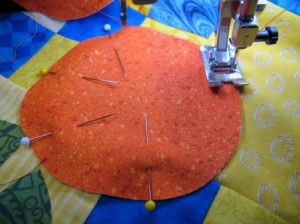 Pin the oranges in place on the quilt and they are ready for stitching. I use about five big quilt pins. Take each pin out before you get to it while you are stitching. Keep the patchwork and the orange very flat while you stitch. Notice the position of the presser foot. I use the presser foot as a guide as I stitch.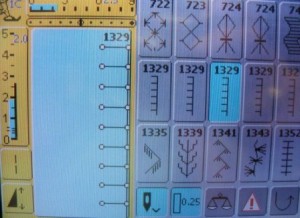 This is the stitch I'm used for appliqué. Notice that I positioned the stitch all the way to the right. This is so that the appliqué is moved by the feed teeth.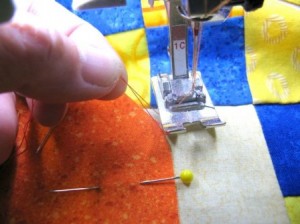 The first thing is to bring the bobbin thread to the top of your work. This allows for a great first stitch. Bring the bobbin thread to the top by inserting the needle into the work once and then pulling the thread up, holding the top and bobbin thread in your hand before taking the first stitch.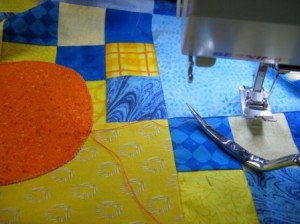 After stitching, cut the top and the bobbin threads about two inches from the last stitch. Pull the all threads to the back of the work with a hand needle. Secure them on the back with a knot.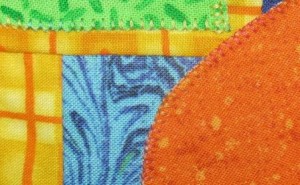 Here is a close-up of the stitching. I used variegated green and orange threads (Star Cottons) for the stitching.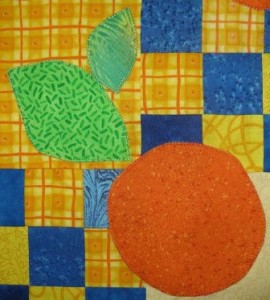 Here are the oranges and leaves on the blue and yellow quilt.
Click Here for More Projects by Terry White