By Holly Hanover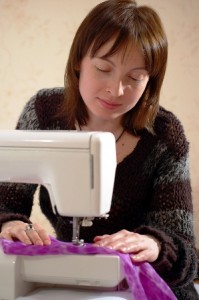 No matter what type of sewing you're in the mood to undertake, (quilting, dressmaking, mending, etc) there is one resounding truth that encompasses each and every element of the craft: mistakes will be made. Even the most experienced quilter will mess up from time-to-time, and when it comes to quilting for beginners, mistakes inevitably become a huge part of the sewing process.
Fortunately, we quilters are a friendly, communal bunch and are more than happy to pass on our empirical knowledge so that you don't spend the majority of your quilting time ripping out seams in a state of frustration. Here are five common mistakes common of beginning quilters that you can learn to avoid:
Attempting a Complex Pattern: It's easy to go difficult. Complex, intricate patterns are the reason many of us fell in love with quilting in the first place, and a common mistake is to attempt such patterns from the get go. In quilting for beginners, the solution is to go with simple, straightforward square patterns. You'll learn so much undertaking these easy patterns and have much more fun learning from them than you would a complex pattern.
Uneven Seams:  If you're sewing the type of quilt that involves piecing together many blocks of fabric, uneven seams will destroy all of your hard work. Keep your eye not just on the needle, but on the raw edges of your fabric as you sew. Most machines have a guide that will show you where you need to line up the raw edges to achieve a ¼'' seam allowance. If you're using an older machine that doesn't have this feature, a piece of masking tape placed in just the right spot will to the trick.
Poor Fabric Cutting:  When quilting, it's important to cut all your shapes uniformly and neatly. Many instructions for quilting for beginners don't include a guide in how to operate a rotary cutter. This tool can save you a lot of time and grief when used properly, and with the right accessories, like a transparent ruler. Check out this instructional video for more tips.
Forgetting to Backstitch:  In sewing, backstitching is essential. Backstitching reinforces a seam by reversing the stitch direction at the beginning and end of each seam. It is key to holding your quilt pieces together. When omitted, your pieces will fall apart, so remember to backstitch.
Poorly Pressing Seams and stretching fabric:  Many beginning quilters and sewers fail to understand that properly pressing your seams, while time consuming, is an essential part of the process. In order to get your fabric to lie flat and achieve a clean, pleasing result, take the time to thoroughly press all your seams. For quilting, you should lay your fabric on your ironing board with the wrong side facing you. Then, iron your seams in the same direction. Keep in mind that moving the iron back and forth will likely cause your fabric to stretch, so take the verb "press" literally.
Remember these five mistakes, and their solutions, and you will have much more fun on your many quilting projects. However, always keep your seam ripper handy, because even years from now, when you're a quilting master, mistakes will still happen!
 Click Here for more Beginning Quilters Tips