Conquering Quilt Doubts and Inner Critics
By Kathy Mathews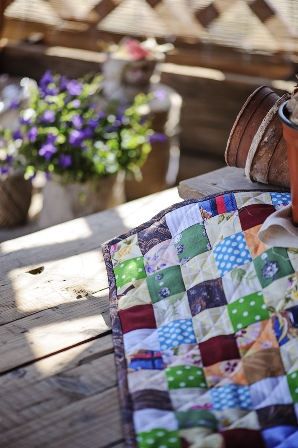 Recently my quilt guild had the opportunity to apply to have quilts with a pre-chosen topic be shown at a Major Quilt Show. It was pretty exciting and I submitted mine for consideration. Yay! I got in! I was very happy.
I was surprised when a fellow guild member did not submit hers for consideration and it reminded me of myself last year. We had the same opportunity then and I nearly didn't take a chance for a number of reasons. I think many quilters battle these inner critics for not making, not finishing, not liking, not giving or not showing a quilt. I want to address each reason and rip it apart by the proverbial seams.
My quilt is not perfect – Yes, that is true. It is also true for every quilt by every quilter that has ever been made. Welcome to the club of imperfect quilters with imperfect quilts. Isn't it a great club? No one and nothing is perfect so you can stop worrying about that.
Look at this flaw – Oh that insignificant flaw right there that I would have never seen? The one that I thought was part of the design? The one that no one will notice unless you point it out to them? Would you point that out on a Friend's quilt or a stranger's? Then stop doing it to your own.
It is slightly different from the directions – Last year I panicked because my quilt was not 36" by 36" but instead one side was 35.75" and another was about 35.6. Then I realized that the human eye couldn't detect that difference and I was entering a photograph where no one would be able to tell. Plus it was my quilt, the very size I made it.
I don't like this aspect; I will redo it – If you want another quilt, go for it. But it is NOT a replacement for this lovely one. Submit this one, finish this one, this imperfect wonderful quilt. This is not homework; it is fun and a hobby. You are sabotaging yourself. Cut it out!
I didn't finish on time – I have used this excuse myself. This way your quilt didn't fail to get in or be appreciated, it just wasn't done on time. If that is truly the reason, submit it, give it or show it next year.
It will never be accepted – So what? Then you can get yourself a t-shirt and proclaim your quilt is a reject and laugh about it. The quilt is still fabulous.
The recipient won't want a quilt of mine – If someone for whom you are making a quilt will not appreciate it then do not give it to him or her. This says much more about that person then your quilt. Keep it or give it to a more worthy recipient. Some people are not quilt worthy!
Another quilter told me what was wrong with my quilt – Oh really? And what the heck is wrong with that quilter? Jealous?Rude? Mean? Limited social graces? A know it all? Your quilt might not win best in show but you could always grow and improve and make one in the future that would. That quilter will probably be miserable forever. Love that quilt!
This top isn't worth quilting – How many people do you know that have a favorite quilt top? No one that I know. Everyone has a favorite quilt that keeps them warm and gives them comfort. The most pathetic quilt I ever made is the one my daughter and granddaughter snuggle under every single day. They adore that quilt. Go and finish yours!
I'm the worst quilter I know – Then you don't know many people. Most of the people I know can't quilt at all. The fact that you can sew puts you in a unique and special group. You make quilts? Even more so! You are making the best quilt right now that you are making now. Finish it and see how many people LOVE it.
I've seen way better quilts in shows or online – I have too. Those are their highlight reels, their best of the best. Do not compare your first quilt, worst quilt or even best quilt to some professional who may or may not have help cutting, sewing, designing or quilting that masterpiece. That quilter may well have bad breath. Your quilts are great!
Quilters make quilts because they want to exercise their brains, play with fabric and meet other quilters. They make them for their beds, their walls, their friends, their pets and their family. Don't be the quilter who makes quilts to have one more thing to feel bad about. Finish them and feel the joy.
Your quilts are wonderful just like you!