By Kathy Mathews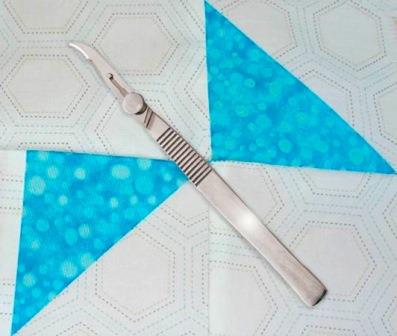 Imagine seeing your sewing studio with your eyes closed. Yes, that's right, close your eyes and think about all the sounds of sewing that occur throughout the day in your own personal creative workspace. What sounds do you hear?
A snap as the light switch goes on, followed by more snaps from various machines and gizmos coming to life. A hiss from the iron as it heats up, getting the steam ready. Some studios lack this sound as a dry iron is preferred.
A buzzzzz as bobbins are filled. Different machines mean different bobbins. Some cruise while others are noisy sports cars. A click as the bobbins are snapped into their respective chambers. Sometimes we hear the gentle swish of a machine being cleaned with a brush or the light gurgle of oil cursing into the inner workings.
Scritching and scratching is heard as a pencil sketches on paper. At times, crunching and thuds of paper on the floor reverberate when designs are rejected. And then an awww — it's the sound of satisfaction, of an idea transferred from a thought to paper and now to fabric.
The room is ready, the molecules of sound have combined to let us know that important and creative work will happen here today.
The slight swish or perhaps a louder thump as fabric is unfurled, smoothed and admired. Too gorgeous to cut? Don't be crazy — it's made to be cut! The snipping of scissors and the soft crunch of a blade lets us know that pieces are taking shape to be joined to others. A nearly silent whoosh of pin into fabric — you have to listen carefully for this step. And maybe open those eyes to avoid stepping on one!
Now the best sound of all, the whirring of the machine connecting fabric with thread. Sometimes it's high-pitched and whining, other times languid and constant. It's the sound of fabric taking on a shape, of a quilt being born.
Intermixed are pauses, breaks in sound and activity. Feet padding out and coming back. The clink of ice in a glass is the newest sound that allows for thoughts as well as refreshment. The clanging in my head, the clash of ideas, the flashing of inspiration cannot be heard, but my breathing reflects it. Can brain activity be perceived or only the product of it?
Purring, mewing, panting or chewing can occasionally be perceived as well-loved visitors paddle into the room. After much repetition of key sounds there is sometimes a deep sigh of contentment as all the sounds combine to create a pleasing whole. Other times there is the crash of a project rejected, the voice of irritation, the throwing of an innocent tool. Don't worry, this storm shall pass. It may take the ticking of time or the savoring sound of chocolate being devoured, but it passes.
The ribbit of ripping may fill the studio with a bit of heavy breathing. But soon the soothing whirring of connection is heard again. Smiles and cries of exultation will eventually fill the air. Creation, completion and satisfaction achieved. Crescendo and done.
What are the sounds of sewing? The concert of a quilt? It's a snapping, hissing, buzzing cacophony of machines and tools. It's the combination of scritching, scratching, crunching and thudding followed by some snipping, crunching, whooshing and whirring. Then comes the clicking, beeping, whirling and tapping. Clinking and clanking are muffled by purring, mewing, panting or chewing. Sighs! Crash! Tick, tock and rip.
Hurray! The sounds of sewing always culminate into the touchable, visible and enjoyable – a finished quilt. Next time you sew, try for a minute to close your eyes and listen. Just not when you're near the pins!
---
Save on the best fabric scissors
from Havel's Sewing!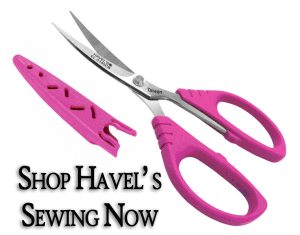 ---
About Kathy Mathews: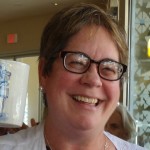 Kathy Mathews has been sewing for 49 years and quilting for 31, which is odd as she's so young. She taught Spanish and French full-time for 35 years in Illinois Public Schools and then continued at the college level until 2014. During that time, quilting and sewing allowed her a creative outlet and kept her sane. In addition to needle arts she is an avid reader, swimmer, traveler and yoga newbie. She blogs mainly about quilting at ChicagoNow.com. She lives in the Chicago area with her husband, is the mother of two grown daughters and grandmother to the cutest 2-year-old girl in all the land. You can email her at quiltingsewingcreating@gmail.com.