Interview with Terry White
By Jackie Marsal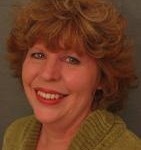 Terry was born with a sewing machine in her crib. Art has been a large part of every facet in her life ever since her earliest memories as a young girl. Her work resonates with creativity, imaginativeness and originality. A story can be drawn from every one of her creations, from the unique turtles in "Turtle Crossing" to her cats that sing the blues. I sat down with Terry to see what she had to say about her art, her inspirations and how you too can be an original.
How long have you been a mixed media artist?
I've been a mixed media artist since the second grade! I went to Catholic school, and each May we would make a little "May Altar" out of a shoebox. It was a little shrine to Mary, blessed mother of Jesus. I looked forward to making these every year, and I took it very seriously. I gathered plastic flowers, broken jewelry, birthday wrapping paper and magazines to cut for imagery. Creating a garden shadowbox with a statue of Mary in the middle was so much fun! As a child, you don't worry about good taste, you just cut, glue and paint the thing until nothing else will fit. I still do this at times! I've experimented mixing art materials and found objects ever since. The tactile nature of fabric, yarn, beads, etc. interested me because it was real and not just a painting on the wall.
How would you describe your style?
Well, describing my style is a tough one. I bring the necessary imagery, techniques and materials to each new project or series I work on. So when I explore new ideas the imagery, colors and materials may vary greatly from one project to the next. Line and form are the first important considerations for me … then color. My drawing style is simple, with lots of flowing lines and nice forms. My colors tend to be clear and bright, and the materials I use to realize a design enhances the lines and forms.
Was there a certain artist that inspired you in the early stages of your career?
There's definitely more than one – Constance Howard for modern embroidery, Robert Rauschenberg for sculptural fiber forms, Dr. Seuss for imagery, Peter Max for color and imagery, Kaffe Fassette for color in fiber, Erica Wilson for embroidery. These are the people I studied in my teens, mostly through their books and other printed material I was able to get a hold of.
Apart from creating art, what else do you do within the industry?
A lot! I design applique quilt patterns and embroidery designs. I design projects and patterns for promotional purposes for Havel's, Coats & Clark and Bernina. I write books which are published by the American Quilter Society, and I'm also a freelance writer published in magazines, most recently in Quilting Arts, In Stitches and Machine Quilting Unlimited. I teach at quilt shows, guilds and groups across the U.S. and I've designed multi-color threads for Wonderfil (the Tutti's and Fuitti's) and for Coats & Clark's Star Line, which is now being distributed by YLI Thread Company.
What is the most challenging part about creating mixed media art?
The challenge is to master the good techniques … and also invent new ones to do the things you have in mind.
What's the best advice you could give someone who wants to try quilting or textile art for the first time?
Just be patient with yourself as you learn the basic techniques for working with your materials. It's okay to be inspired by other artists, but do it from your own point of view. This way you can grow with your own imagery and techniques. Think in terms of "I envision it, so I will make it with the tools and ability I have" and don't be afraid – that's the first thing that stops creativity dead in its tracks.
Click HERE to see more articles by Terry.