Fuse Shadow Appliqué
By Terry White
Shadow appliqué is simply adding a background to an appliqué that is cut around the appliqué shape. It separates the shape from the quilt. In this case, it is important because the blue cat would fade right into the blue sections of the quilt. This would give an awkward shape to the cat. The yellow also accentuates the appliqué so that it has more presence in the quilt….it makes the cat shape a bigger deal.
The Blue Cat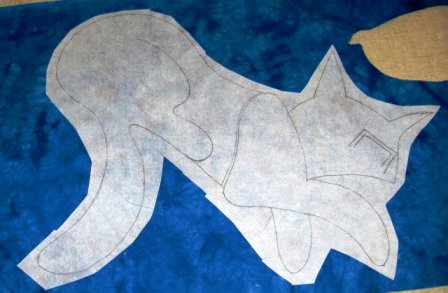 Trace the cat pattern pieces onto the fusible web. I have traced all the pattern pieces together onto the fusible web so that you can see the shapes together. Be sure to reverse the pattern so that the cat faces the left.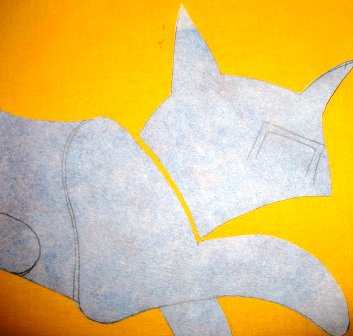 Iron the blue fabric to the web and cut out the cat. The blue fabric that I chose is a deep blue with soft texture. I think that the texture makes the cat livelier.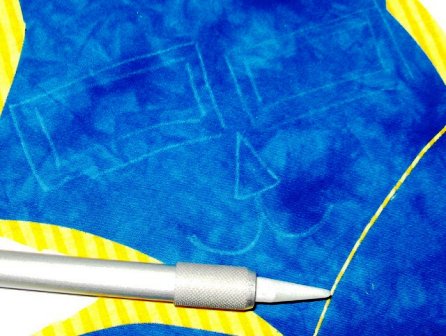 Trace the cat's face onto the blue fabric. I used a graphite marker. The graphite marker lasts forever and works on dark fabrics.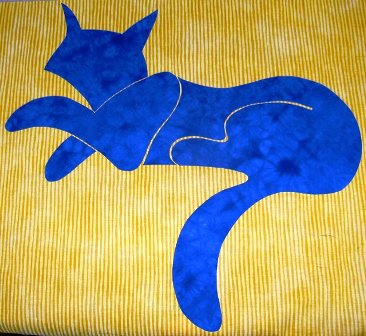 Fuse the blue cat to a yellow piece of fabric. The yellow stripe fabric adds a bit of humor to the cat. Rough cut the yellow fabric about half an inch around the cat shape.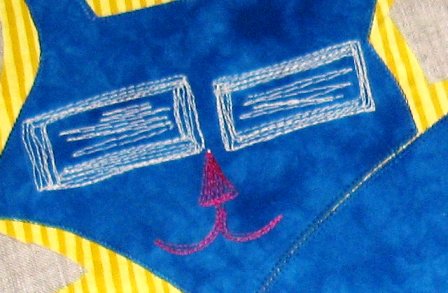 The yellow fabric acts as a stabilizer. Now, the cat's face can be hand embroidered, painted, stenciled, or stitched with free motion embroidery (as I have done). I used white and fuschia STAR cotton threads to do the embroidery. Use your favorite technique for this detail work.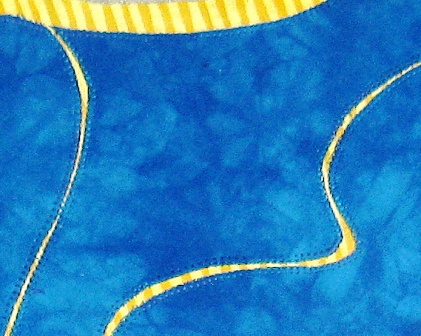 Stitch the blue cat to the yellow fabric. Use the same stitching method as with the leaves and oranges. I used a variegated blue cotton thread to do the stitching. It blends in best with the mottled blue color fabric.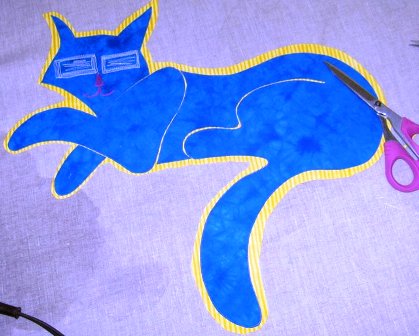 Trim the yellow fabric to create the cat's shadow. At this point, after embroidering the face, I pressed the appliqué. Then, I carefully trimmed the yellow shadow to make a nice smooth shape. Notice that the yellow shadow is thin in some spots and thicker in others. This was done to make a pleasing silhouette.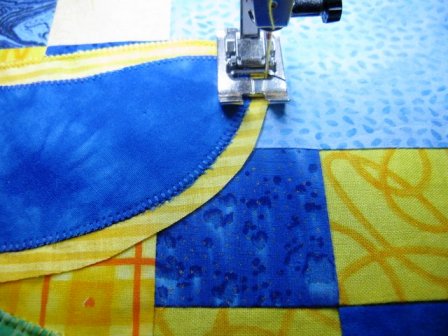 Pin the cat appliqué in place and stitch as with the oranges and leaves. I used a bright yellow variegated cotton thread to stitch the cat to the quilt top.
Sometimes, people like to cut the pieced fabric from beneath the appliqué shapes. It does make it easier to quilt. In this case, I chose to keep the pieced top intact. This will be a picnic quilt that will be well used and I want to keep the integrity of the patchwork intact for strength.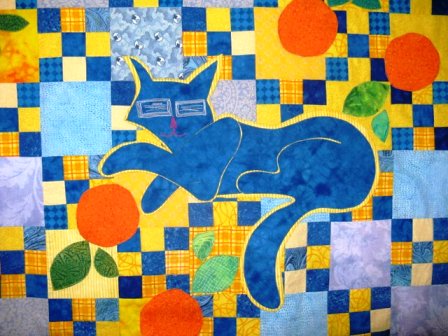 Here the blue cat is stitched to the finished quilt top. The blue cat looks very happy among the oranges on this picnic quilt.
Here are the pattern pieces for the Blue Cat With Oranges quilt.
For the best Applique Scissors Click Here
For more articles by Terry White, click here.