By Terry White
Scissors as Art
My brother, Wally (the carpenter) gave me 20 old printer's trays. Then, I received a beautiful set of Havel's scissors….I know….I'll make cool displays for my scissors! The first one I made is now on the set of Quilting Arts TV. So, I took photos of step-outs for my second tray. I still have to make another to replace my first one…..that's okay, because this is fun!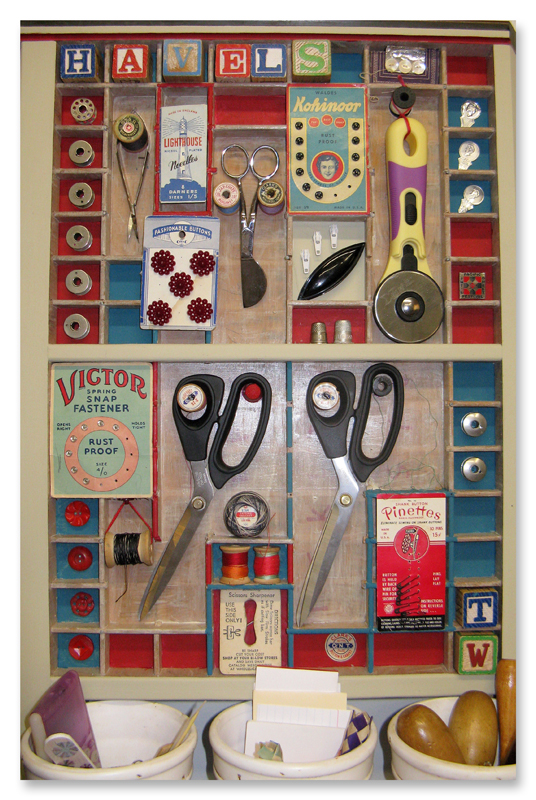 So, the first thing to do was to lay out the scissors in the best arrangement. This grouping of scissors includes 9″ Professional Dura-Sheers, 9″ Serrated Dura-Sheers and 60mm Rotary Cutter. Good scissors are essential to my fiber work.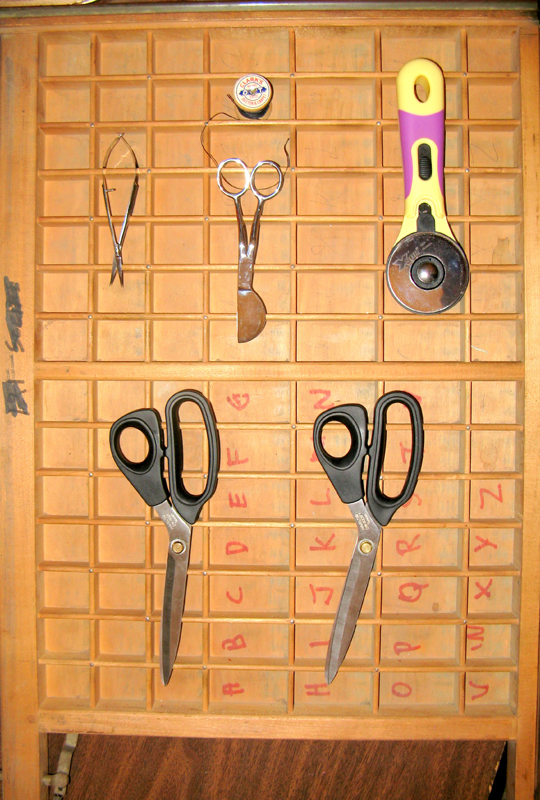 Next, I pulled out my cool notion collection. The way I feel about it is that, if I don't use my cool notions, then someday, somebody else will buy them in an estate sale!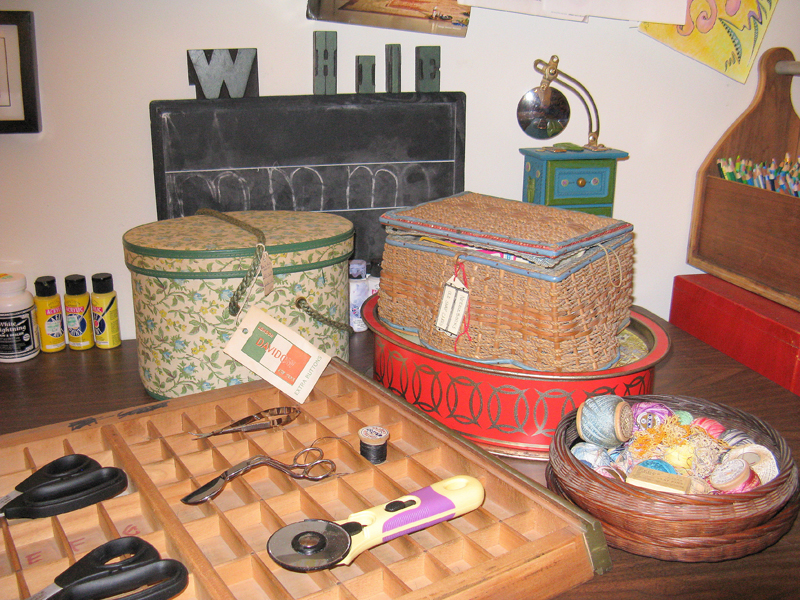 As I began to lay things out, the colors and graphics of the Kohinoor Snap Card set the tone for the work. So, I exchanged some of my first ideas and used strong graphic design pieces.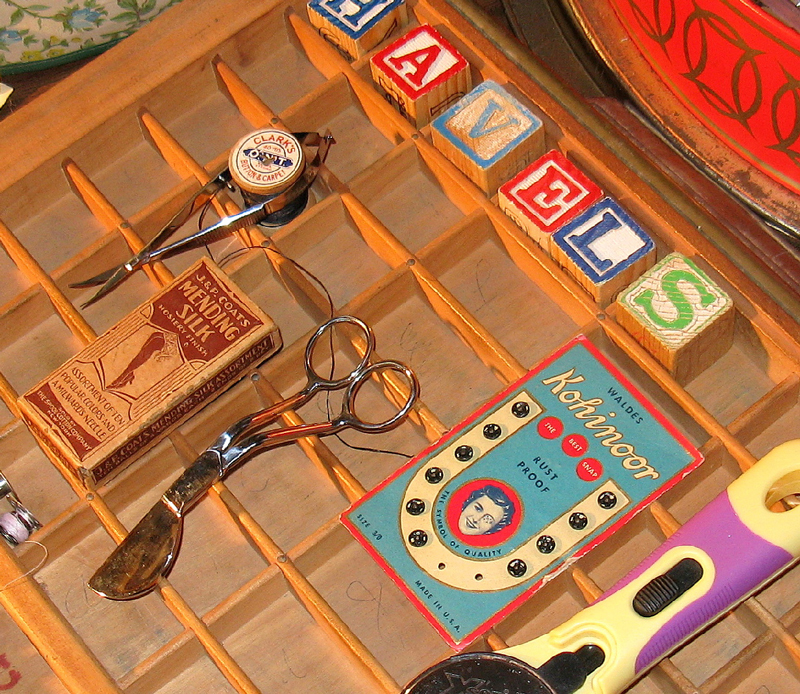 After getting an idea of where things would go, I placed them on a large corkboard. I was careful to place them in the same arrangement.
When doing this next kind of work, I wear my safety glasses – using a chisel and mallet, I made angled cuts in the center of each little partition slat. Then, I cut the slats at the intersections.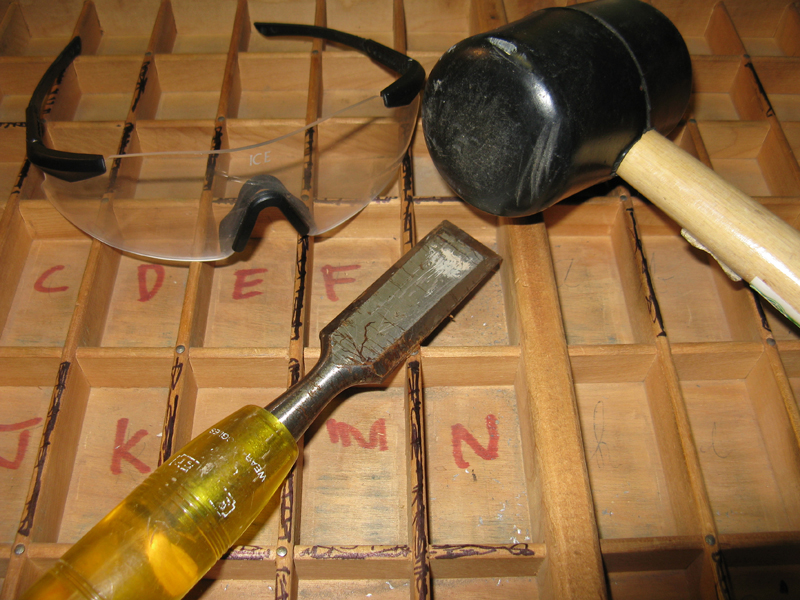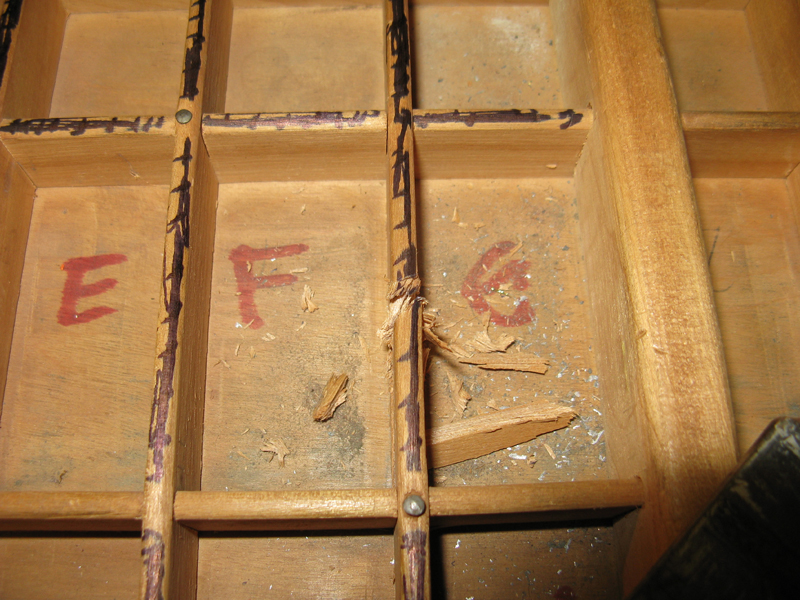 When all my cuts were made, I sealed the tray with "White Lightening". It is a white stain and a sealer; very easy to use, just brush it on. From this point, I can paint with acrylics and use my hot glue gun to add my pieces.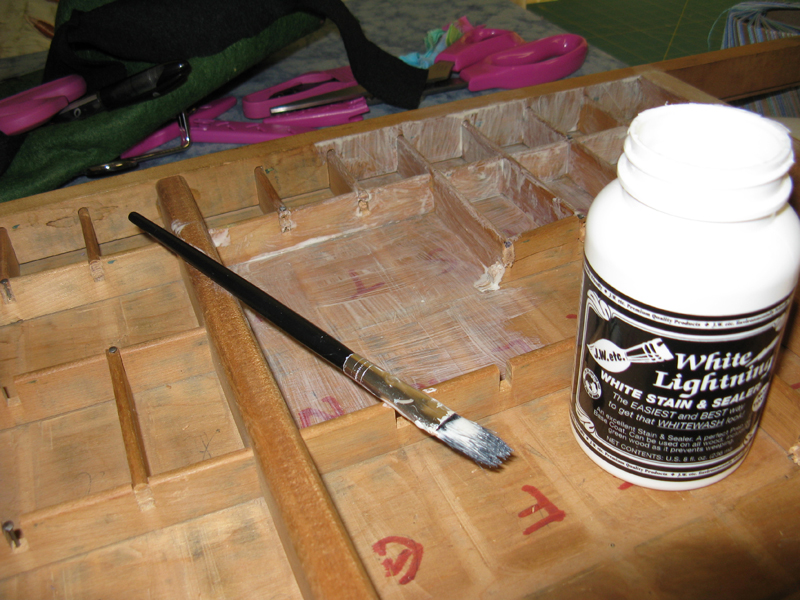 I attached some of the notion cards with "HandiTak" reusable adhesive. It doesn't hurt the notion card – just in case I find out that one of these antiques is a National Treasure!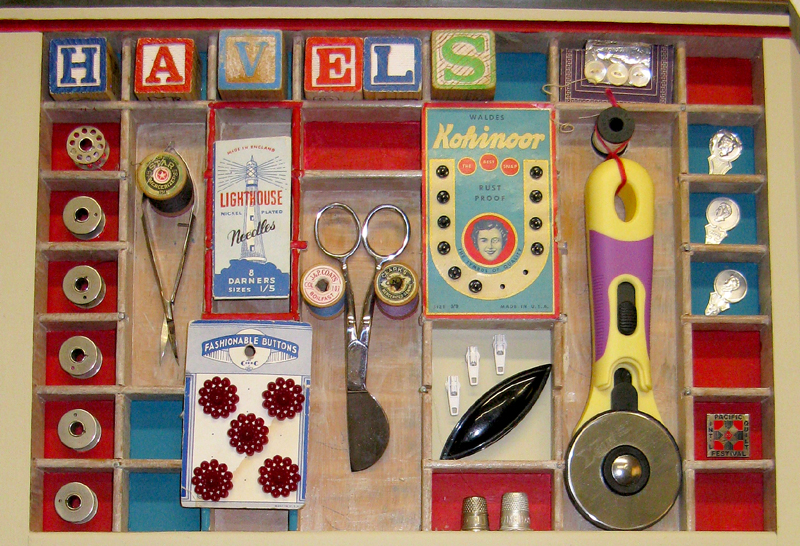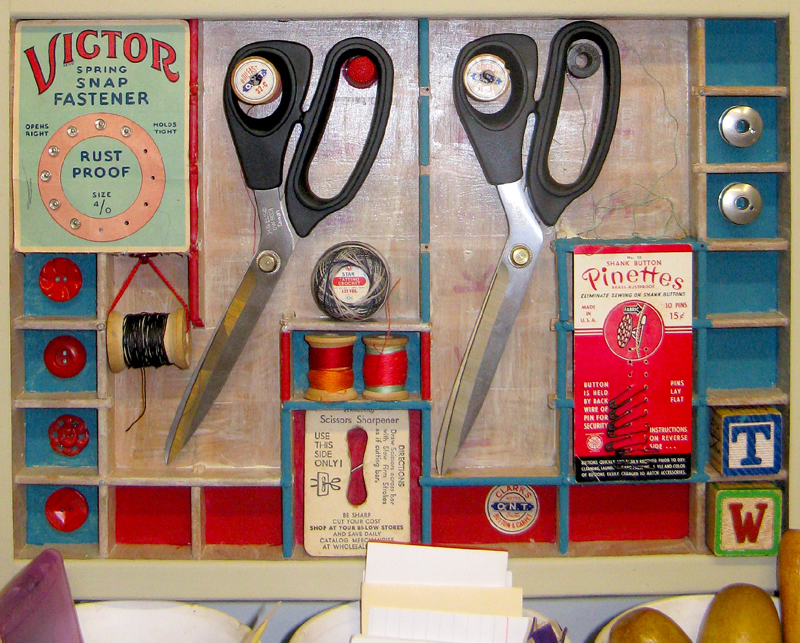 This could be a weekend project, but I like to work on a project like this over some time. It gives me a chance to think about the little vignettes I can create, and consider design choices.
---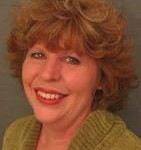 Terry White is a studio fiber artist. She has been doing this work since 1996, and she discovered the techniques she uses: threadpaint, machine appliqué, piece, quilt, embellish with beads, fibers and minutiae with sewing machine techniques, through experimentation and self-study.  Terry teaches these techniques through classes and videos.  Over the years Terry has been published in over 50 articles in magazines and books, including: McCall's Needlework; Quilter's Newsletter; Machine Embroidery and Textile Arts; CMA trade magazine; Stitch n Sew Quilts; Quick n Easy Quilts; Quilt World magazine and Calendar; Quilting Arts Calendar 2003; America from the Heart; America's Best; America Sews.  She is a wife, stitcher, artist, sister, mother, friend, nana, gardener, baker, writer, student, teacher and American.  See more of Terry's work at www.threadpaint.com.
---