By Jamie Fingal
Learn to make a whimsical wall hanging to celebrate the birth of a new baby girl and/or baby boy. 
The girl has a dress and the boy has overalls, and they hang on a baby hanger.  They are each unique and fun, and personalized.  You can add your own touches, like lace, unusual buttons, funky baby hangers.  This is a perfect craft to make in an afternoon, and you've got something really unique that you can give as a gift or keep for yourself.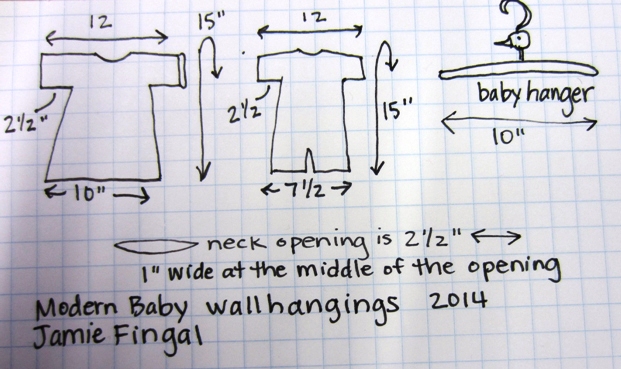 The pattern is not to scale, but you can get an idea of the dimensions for each. The upper portion folds over, like the top of a shirt. It enables the hanger to work correctly, and finishes the piece nicely. You can make a pattern on a piece of larger paper, and draw the dimensions. Then cut out whichever pattern you want to make. Just wait to cut out the neck opening.
Materials Needed
2 pieces of black wool blended felt, National Nonwovens #TOY002 12" wide x 15" long
12" wide piece of fabric for each; one blue, one pink
Scraps of pre-fused fabrics, 2 contrasting fabrics
White fabric for the text
Baby hangers, which are about 10" across
Girl – 5 mother of pearl buttons
Boy – 5 contrasting color buttons, and 2 for the straps
Ruler and rotary cutter
Take out your coordinating felt for the backing.  You can either leave it 12×15 inches and sew the quilt, or cut it the same size as your pattern.  The second layer will add stability to your piece, especially during the sewing part.  Cut out the neck portion before you
start sewing.
---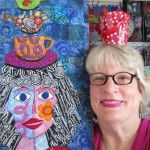 Jamie Fingal is an artist, author, teacher, fabric designer, and curator who hails from Orange, California.  An award winning artist and the author of the book Embellished Mini Quilts.  Her whimsical and abstract work has been juried into International quilt exhibitions, featured in many books and various magazines and has two instructional DVD's – The Whimsical House Quilt and Rebel Quilting. She has been a guest on Quilting Arts TV numerous times. As well as being the other half of the curating team of Dinner at Eight Artists, with Leslie Tucker Jenison. You'll find her work in private, public, churches, and corporate collections, www.jamiefingaldesigns.com.
---